Frommer in Comfort Zone at Midlantic Sale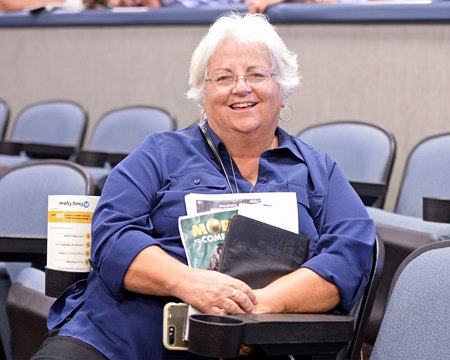 Veteran pinhooker bought 15 horses for $761,000.
South Carolina horsewoman Cary Frommer has knocked it out of the park with horses she has purchased at Fasig-Tipton's Midlantic Fall Yearlings Sale, including two grade 1 winners and one sold for $1 million.
But after buying only five at last year's sale, Frommer was much more active during the Sept. 30-Oct. 1 auction this year, acquiring pinhook prospects on behalf of herself and partners as well as horses destined for the stables of several other clients.
"This is my sale and I just love it," Frommer said, before adding that the depth of the buying base was strong this year, laughingly suggesting they're invading her turf. "But now, everybody is here. And I don't appreciate it."
Frommer's Midlantic yearling sale successes include Stephen Foster (G1) winner Bradester , purchased for a mere $20,000 and re-sold as a 2-year-old for $195,000, and Henley's Joy, a $20,000 Midlantic yearling purchase who was resold for $50,000 as a 2-year-old and has gone on to win three stakes, including the Belmont Derby Invitational (G1T).
The agent had also acquired a colt by Uncle Mo  for $90,000 at Midlantic and sold him for $1 million as a juvenile.
This year, Frommer signed for 15 yearlings for $761,000 on behalf of herself and clients.
Topping the list was a Jump Start  colt (Hip 150) for $130,000 from the consignment of Marshall W. Silverman, agent. Bred in Pennsylvania by J. Besecker, N. Strong, J. Cullen, K. Cullen, and Silver Springs Stud, the colt is out of the War Pass mare Gritty Gal, a half sister to grade 3 winner He's Got Grit. Frommer also purchased an Upstart  filly (Hip 271) for which she paid $120,000 from Dark Hollow Farm, agent. Bred in Maryland by her consignor, the filly is out of the stakes-winning Pure Prize mare Plum.
Frommer said she and some of her partnerships had ramped up the amount they were willing to spend on pinhook prospects in recent years, a move that added to their overhead and did not produce the desired results.
"We're trying to keep a little more sense to our buying," Frommer said. "We went high and pushed hard on some horses the year before last and didn't reap the rewards we would have liked. We made money or broke even and we had some home runs, but they weren't with the horses we paid a lot of money for, so that was the problem. We have backed up a little on price this year. If we do step up it will have to be for something we really feel good about."
In a divergence from her playbook, Frommer this year did not attend Fasig-Tipton's sales in Saratoga Springs, N.Y., in August and is trying to fill her barn with yearlings bought at Midlantic so she can skip Fasig-Tipton's Kentucky Fall Yearlings Sale later this month.
"At the last minute I ducked out the gap and didn't go to Saratoga. I am trying to get enough that I don't have to go to the October sale because I have a lot of horses in training and need to stay home," she said, noting that Barry Berkelhammer, with whom she partners on a lot of horses, would be at the Kentucky sale.
"I will buy into some of his and he will buy into some of mine; we're splitting it up a little more this year," she said of the partners' buying patterns.