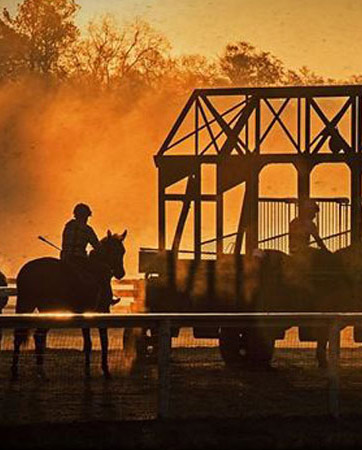 FOR PINHOOKERS
There is a real talent involved in buying a yearling and, after a period of dedicated time spent working and training the young horse, taking it to auction and selling it as a two year old.  Ready to go forward in a racing career.  The name of this is 'pinhooking' and it used to be centralized in Ocala, Florida.
The Aiken Training Track is attracting more and more pinhookers.   Since the track is open all year round, pinhookers work with their young horses throughout the year.
One of the most respected pinhookers in the racing business today, is Aiken's Cary Frommer.  Frommer is the immediate past president of the Aiken Training Track and resides in Aiken.   Her talented eye for buying a yearling and her organized method of working with the youngsters at the Aiken Training Track has rewarded her clients.  Yearlings, sold by Frommer, have brought very high dollars.
Three horses who were under the care and training of Frommer recently scored very big in New York in July 2019 and they were all trained at the Aiken Training Track.  Henley's Joy won the $1 million Belmont Derby Invitational Stakes and Concrete Rose scored in the $750,000 Belmont Oak Invitational Stakes.  Both races were Grade 1 events and run on grass.  Another horse, trained in Aiken, 5-year-old Killybegs Captain, finished third in the $300,000. John A. Nerud Stakes at Belmont.
Henley's Joy was purchased for $20,000.  at the 2017 Fasig-Tipton Midatlantic Fall Yearling sale in Maryland by Frommer.  Last year,she  sold Henley's Joy for $50,000 to Bloom Racing Stable at the Ocala Breeders' Sales Co spring sale of 2-year-olds in training in Florida.  The 3-year-old colt was a 20-1 longshot at the Belmont Derby in July.
Frommer said, "when you talk to people about Aiken, they always say 'Aiken had some good horses back in the day but what have you done lately?' It's really important that word gets out about Henley's Joy and Concreate Rose.  It was a big day of racing in New York and they put on a big show."
RESERVE A STALL
Call 803 648-4631