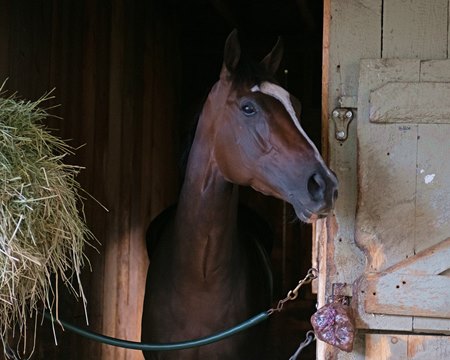 The daughter of Twirling Candy was injured while playing coming off the track.
CONCRETE ROSE was started at the Aiken Training Track by Cary Frommer and sold at Fasig Tipton Timonium by White Pine Stable which had selected her as a yearling.
Millionaire Concrete Rose, who missed the second half of 2019 with a fractured right foreleg, will have her return delayed by another setback, an ankle injury, trainer Rusty Arnold reported May 21.
The winner of last year's Belmont Oaks Invitational Stakes (G1T) for owners Ashbrook Farm and BBN Racing had been training at Palm Meadows Training Center in South Florida toward an intended spring return.
"She was playing one day coming off the racetrack and bucking around and jumping, and came down a little bit funny," Arnold said of an April incident. "She showed some heat in an ankle, and we had to give her a little bit of time off. It's what I would call a severe wrench."