Hammond Hands-On With R. Marie Farms
Courtesy of the BloodHorse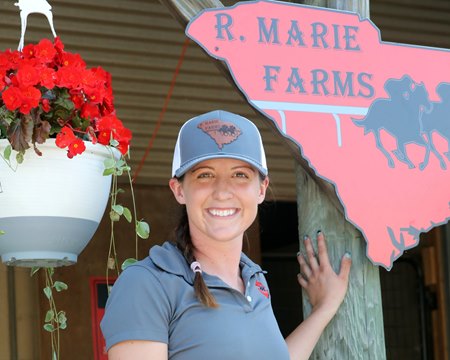 Hammond Hands-On With R. Marie Farms
MarketWatch Interview: Rebekah Hammond
At only 28-years-old, Rebekah Hammond runs R. Marie Farms, a small-scale training, breaking, sales, and racing operation, which is focused on building solid foundations in Thoroughbreds through individualized schooling and care. With the help of her parents John and Tracy Hammond as well as her business partner Hector Garza, Hammond currently has 15-20 horses in her stable this year which she prepares for sales as well as for the track, racing several for various owners as well as a few for herself. Hammond sat down with BloodHorse MarketWatch to discuss her passion for the industry, how she breaks/trains horses for sales, goals for the future, and what it is like being a young female in the business. 
MarketWatch: How did you get your start in the industry?
Rebekah Hammond: I'm originally from Florida. My dad is in construction which I guess takes you all over the place. We moved to New Jersey and then to Georgia … I got into horses in New Jersey and I liked it. I did the hunter/jumpers and stuff like that. I thought it was not that great but I loved horses. When I was 12 my dad took me to the Belmont Stakes and I saw Rags to Riches  beat Curlin   and I was like, 'This is awesome, this is what I want to do'… I had friends that were doing the showing and it just seemed so hoity-toity and it was all about who the trainer was and what horse you had. When I went to the Belmont, I saw that it doesn't matter who you are, it just matters if you're fast. It doesn't matter if you're a girl, you can beat the boys. (I thought) this is what I want to do. Plain and simple, just be fast and it doesn't matter who you are.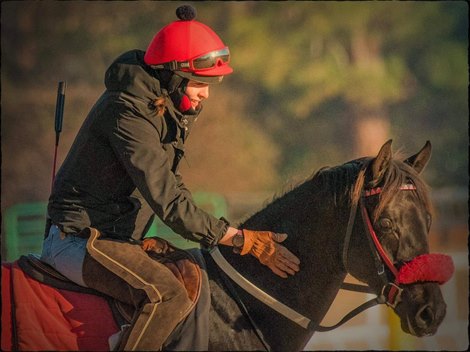 MW: When did Thoroughbreds become a full-time job for you?
RH: My family moved us to Fayetteville, Ga., and I started really being obsessed with horse racing. I was reading a book by Cot Campbell on his stable and I know they started in Georgia and moved to Aiken … I turned 18 and I went to Aiken to check it out and tried to get a job with Dogwood but they said no because I had no experience with racehorses. So I went to Darley, and they gave me a shot. I worked for them for four years as an exercise rider; they pretty much trained me up from the beginning and taught me how to break horses and exercise. They, unfortunately, left Aiken so I started working for Cary Frommer, who's a pretty big pinhooker. Another friend from Darley (Hector Garza) and I really wanted to stay in the business; he's 70 and is a lifelong horseman. He taught me the training aspect of it and I did the riding aspect of it, and we decided to try training horses as well.
MW: How did you establish your operation R. Marie Farms and what does it look like day-to-day?
RH: In 2016 we were at an in-between time and that's when Hector Garza and I decided to just try it. He was older and getting out of the business and I was just getting into it. It was kind of my thing and he was going to back me up. It started in 2016 when we bought one horse to pinhook.
I try to keep it pretty lowkey because I want to be hands-on with everything I do. I'm big on ground work. I like to do a lot of ground work with my babies before I get on them. It's big for me to be able to sit on every horse that comes through my operation. I want to know how they feel under me, I want to know their quirks, their strong points, I want to know all that about them. I try to do most of the breaking myself. This year we got a little bigger. We were in the 15-to-20 horse range so I had to bring in a little bit of help because it was too much for me to do all the riding by myself.
Initially, I did not want to do racing, but you do the sales and you're like, 'Oh, they're not going to give me enough money,' so you think you'll just keep it and race it yourself. That's how I got into racing. Hector and I have split paths. He's doing the racing side of things and I'm doing the breaking side of things. He's up at Finger Lakes with a couple of my horses that we kept. I try to keep it small. I have three or four good owners and I get two to three horses from each of them and a couple of our own. I like to have that one-on-one relationship with all of them (owners) and be able to tell them everything about each one of their horses.
MW: What is your process when breaking horses?
RH: Typically when I get them I let them chill at the farm for a week or two. Some of them need more time to accommodate to the new surroundings and some of them need a job. It just depends on the horse; if I get to working with them right away or let them settle in a little longer. I like to do a lot of round pen work and a lot of long lining. I like to have a really nice soft mouth on them, good brakes, know left and right, and all that before I get on their back. Then I'll back them and ride them out in the round pen.
We start at our farm and we also work at the Aiken training track. But I stay at the farm for the first two to three months. I get them going; get them used to being ponied. When I know they're ready to graduate to the Aiken training track is when they leave the pony behind and are good on their own. We move to the Aiken training track where we continue their training and get them (depending on the horse) two minutes working, breezing up to three-eighths, and then we send them to the trainers or the sales.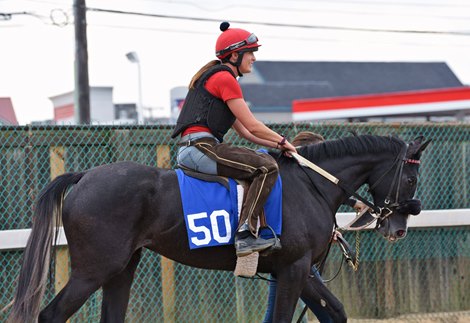 MW: What sales do you typically focus on and what horses are you looking forward to showing off this year?
RH: Usually we go to OBS June. I don't mind it except it's hot. I like that they have that extra time to grow and develop. You know you have a more mature 2-year-old going into the sale whereas with some of the other sales, the horses are a little immature and you're having to push them to get them there. I like that aspect of the June sale. This year we did kind of go all over. We went to April and then May and came back for June. I don't think I would do all three sales next year because it's exhausting.
We have a really nice Sharp Azteca   filly. She's just really cool. She does everything effortlessly. I'm excited to see what she does for her under-tack show. We just had the one down here (at OBS June). We've always only had one or two horses (in the sale) until a couple of years ago. Last year we had four; we're a pretty small operation. I'm hoping to start having five sale horses a year starting next year. That would be my goal. I haven't worked under a lot of people. I'm kind of doing it the hard way through trial and error and getting my name out there one horse at a time.
MW: What are the challenges that have come with being a younger female in the business?
RH: It's hard; it's really, really hard. For the most part, people have been really encouraging and helpful but it's a tough business. We haven't had any grand slams yet that is pulling us through. Every day is hard work to get it all done. I've had to do most of the work myself. But I will say everybody is very respectful and encouraging. I feel like that wasn't the case too many years ago. I feel like the game has come a long way.
It's all about putting in hours and meeting as many people as you can and showing them the quality of horse you can produce with a cheap budget. Last year we had a horse that I took out of the Timonium Yearling Sale for $1,200 and she breezed :10 flat in June. She's won twice and had a couple seconds already. It's showing what you can produce with a cheap horse. The past year has been really great for us. We've met bigger trainers and they're sending us better quality horses and I'm starting to see our hard work pay off.
MW: What are your long-term goals for yourself and the business?
RH: I would love to stay around 15-to-20 horses; that's a good number for me because I want to be hands-on and know them each individually. I'd like to get better quality horses. We've been working with cheaper horses but we've done really well. All of our sales horses have won, except for one who's hit the board numerous times. They all do good for their class of horse.
We go a little slower but we don't skip any of the basics. It takes us a little longer to get there but all of the horses get to the track with super solid foundations. They don't have any silliness or quirkiness they have to work out. They know their job and they're happy to do it.
This is the first year that we've had a couple owners who are letting us keep a couple horses and race them ourselves so that's exciting. I have a 3-year-old that I've been sitting on who hasn't been to the track yet. His name is Little G T—we named him after my mother. We bought him as a weanling and kept him. I'm aiming him for the Colonial Downs meet this summer.
It was hard because I was so jealous of these people once I got into racing. I was like, 'Man, all these kids grow up in racing; it's so easy for them, it's right out their back door, and I have to go find it.' It's a little harder but I'm so glad I found it, I love it.