MarketWatch Interview: Cary Frommer
Courtesy of the BloodHorse
Frommer's Gulfstream Quartet Ready for Next Step
MarketWatch Interview: Cary Frommer
Consignor Cary Frommer brought a draft of four colts for The Gulfstream Sale, a place memorable to her after selling multiple horses that have gone on to become notable sires, such as Trappe Shot , Cinco Charlie  , and Maximus Mischief  . What started as a childhood hobby has turned into a career of training juveniles for the market along the East Coast for Frommer, who now calls Aiken, S.C. home. After seeing her four horses on offer breeze through the under tack show in Florida March 28, the consignor took the time to sit down with BloodHorse MarketWatch to share a little about herself and her training philosophy.
MarketWatch: How did you get into horses?
Cary Frommer: I got into horses when I was 11 years old. My dad was in the military and went to Vietnam, so my mom went out and got a job to make some extra money so that I could have riding lessons. I competed a little bit in hunters and jumpers growing up until I was 18, and took a job breaking yearlings at a farm and went on from there. Once I rode racehorses, I couldn't go back.
I have been pinhooking for about 20 years. Initially, it started from being at the races. My son had just started school, and I needed to stop moving around and have a home base. I'm a competitive person and wasn't happy not having a reason to train horses, so I started pinhooking 2-year-olds. My ex-husband and I received horses that came out of the 2-year-old sales, and I always felt like there was another way to do things. We tried to change things a little. My horses are maybe not as competitive as the other people in the business, but I'm happy with how it all works.
MW: What sales do you shop when looking for yearlings to pinhook?
CF: I love the Fasig-Tipton July Sale—there are a lot of nice horses there, and a lot of the buyers aren't quite ready to pull the trigger yet; they aren't warmed up. I usually come out of that sale with six or seven horses. I try to take advantage of the moment.
MW: What is special about The Gulfstream Sale for you?
CF: I have had some great success here in the past, but it's a hard, hard sale. So many good horses have come out of here. If you think you have a nice horse, bring it, it's an excellent place to be, but don't bring the ones that aren't going to cut it.
MW: What has made The Gulfstream Sale memorable for you?
CF: My second million-dollar horse (Inca Chief) was here, as were my third (Beyond Grace) and fourth (Goren). Those are some pretty nice memories for me. I have brought horses here who maybe didn't bring a lot in the ring but have gone on to be excellent racehorses, like Maximus Mischief (who RNA'd for $245,00, selling at the Timonium Sale for $340,000 in 2018). This sale has always been good to me, but it's tough. It will be interesting to see what this year has to tell us.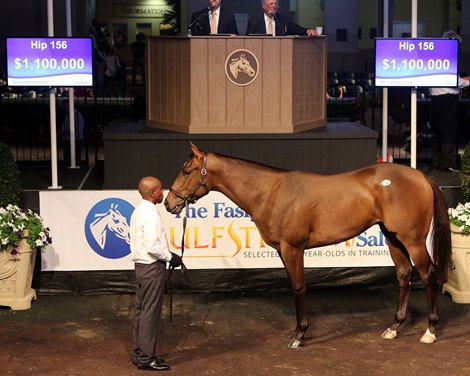 Photo: Fasig-Tipton Photos
Goren in the ring at the 2017 Fasig-Tipton Gulfstream Sale
MW: From your four-horse draft of colts, you have some established and freshman sires; what are you seeing in this group?
CF: I was very high on the Nyquist   colt (Hip 31). He didn't fire at the under tack show (going in :10.4), which was upsetting, especially when they do everything right all the way and then it just doesn't happen in those 10 seconds, or :10.4 in his case. All of the others are really nice horses—they can go on to be any kind or quality of horse. The Nyquist had it stamped on his head from the beginning that he was a star individual, but sometimes the stars fall, and somebody else picks it up. None of my horses had dazzling works, but all had beautiful, smooth, easy works and galloped out well. With all the emphasis on that one-eighth mile, that's not what it's all about after leaving the sale. I am happy with my four and I'm glad I brought them to this sale.
The City of Light   (Hip 86) is the first one I have had and he has been so easy to deal with and has a great mind. He moves with a long smooth stride, and his breeze video is gorgeous. He does his job the best he can. I think he will make a nice racehorse. My Tapwrit   (Hip 27) is a little more on top of the game and maybe not as laid back as the other horses. He's a kind-hearted horse, and he goes along with the flow, but he has a little jazz to him. He's a smooth mover and you will see on the video he jumped two shadows while breezing. Maybe he didn't have his mind totally on his job (going in :10.2). We don't drill them per se; we are more susceptible to a horse that jumps up unexpectedly because we don't press them.
Photo: Fasig-Tipton Photos
The Tapwrit colt consigned as Hip 27 works at the F-T Gulfstream under tack show
MW: What is your philosophy in training juveniles?
CF: My golden rule is the day of the breeze show is not supposed to be the best day of their life—it's supposed to be a step on the pathway to a great career. We keep that in mind all the time when training, but don't get me wrong, I love it when they work lights out—it makes my job much easier. The fact of the matter is, the under tack show is not what it's all about and it shouldn't be. It should be used as a step, and if they come out of the breeze good and radiograph well, then they can go on to their career educated and ready to take the next step.