While spot secure, Dream Shake could bypass Kentucky Derby
Courtesy of Horse Racing Nation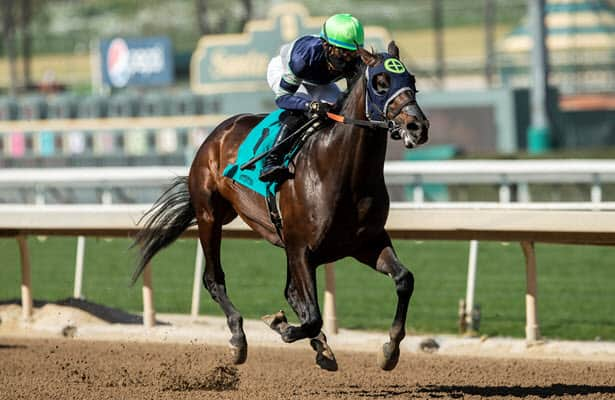 With multiple horses bowing out this week, the updated Kentucky Derby leaderboard released Friday by Churchill Downs has Dream Shake listed as in the field for the 1 ¼-miles classic on May 1. Whether the assignment is accepted, however, remains to be determined.
Trainer Peter Eurton told HRN on Friday that Dream Shake would work on Saturday at Santa Anita for the first time since finishing third in the Santa Anita Derby (G1) behind Rock Your World and Medina Spirit. It is scheduled to be a solo five-furlong drill under Flavien Prat, who was aboard in the Santa Anita Derby, but has the assignment on Hot Rod Charlie in the Kentucky Derby.
"I'm going to breeze tomorrow, then we'll all sit down and make a decision," Eurton said. "Probably the middle of next week."
Dream Shake is already scheduled to ship to Churchill Downs the Tuesday before the Kentucky Derby. If the decision is made to bypass the main event, he would instead contest the $500,000 Pat Day Mile (G2) on the undercard, Eurton said.
Dream Shake is owned by a partnership that includes Exline-Border Racing, who in last year's delayed Kentucky Derby was represented by Storm the Court, the champion 2-year-old of 2019 trained by Eurton. He finished sixth.
Also co-owned by SAF Racing and Richard Hausman, Dream Shake would be making just his fourth career start at Churchill Downs. The Twirling Candy colt was a splashy debut winner at Santa Anita on Feb. 7 and came back to be third behind Life is Good and Medina Spirit in the March 6 San Felipe (G2) at Santa Anita.
In the 1 1/8-miles Santa Anita Derby, Dream Shake was in the vanguard stalking pacesetter Rock Your World along the inside before flattening out in the stretch to finish 6 1/2-lengths adrift of the winner.
"I was pleased with both efforts," Eurton said of Dream Shake's runs in the San Felipe and Santa Anita Derby. "I thought he was stuck inside a little more than I would have like [in the Santa Anita Derby]. He runs much bigger when he's outside. Other than that, I thought he had a relatively good trip and got a lot of education out of it. He's still learning."
Dream Shake would be Eurton's third Kentucky Derby starter. In addition to Storm the Court, he also finished sixth in 2014 with Dance With Fate.
Churchill Downs' lists Dream Shake among 16 horses 'likely' for the Kentucky Derby, which allows a maximum of 20 runners. The remaining four slots are open for Concert Tour, Caddo River, Highly Motivated and Crowded Trade. All four of those colts are listed as "possible."
If any of those defect, waiting to slip-in in order of preference are O Besos, Get Her Number, King Fury, Hockey Dad and Keepmeinmind.