Training Track Graduate News
January 19th, 2021 by
Monica Driver
Click to see our DEC=JAN winners -pdf format
January 15th, 2021 by
Monica Driver
Big MSW win for MY BOY PADDY (Paddy O'Prado) ridden in Aiken by Logan Bearden and trained by Justin Rivera. He obviously loved the synthetic surface at TurfwayPark. After a bump at the start he recovered, was perfectly placed between horses at the far turn and went clear for the win by 1  3/4  lengths for owner/breeder Jellicoe Creek. His earnings now stand at $31,939. Congratulations to all – great way to begin the new year!
December 27th, 2020 by
Monica Driver
At 5, GSW SIR ANTHONY (Mineshaft–Mourette (MSP, $176,271), by Smart Strike, galloped to a win in the 2 mile marathon the listed H. ALLEN JERKENS S., at Gulfstream.  Of his 7 wins lifetime, 4 have been in stakes company, 2 in graded stakes company.
O/B-Richard Otto Stables, Inc. (IL);
T-Anthony Mitchell
J-Julien R. Leparoux. $43,710.
Lifetime Record: GSW, 28-7-3-4, $493,550
On the same day, PAULETTE (Colonel John) pressed the pace in second and then cleared to win her third race by over 4 lengths. She is also trained by Anthony Miller and is owned by Aimee Bohlman
December 19th, 2020 by
Monica Driver
INTERVIEW: Sirius 219/XM 201, some local affiliates, or use the link http://horseracingradio.net/listen-live at 8AM Eastern
You can also listen to the rebroadcast that will be posted to their site after the 10AM finish.
December 15th, 2020 by
Monica Driver
Wednesdays at 6:00 PM ET,  it's Trainer Talk, presented by 
Fasig-Tipton
, with 
Mike Penna
. Every week Mike chats with the top trainers in thoroughbred racing. He gets the stories that you won't hear anywhere else on everything from the reasons they got into horse racing to their philosophy on life. Join us tomorrow for Trainer Talk featuring Mike's conversation with longtime Dogwood Stables trainer 
Ron Stevens.
Listen at Sirius 219, XM 201, or online at horseracingradio.net.
December 8th, 2020 by
Monica Driver
November 19th, 2020 by
Monica Driver
We are proud that CONCRETE ROSE got her start here at the Aiken Training Track with Cary Frommer
Concrete Rose is something special. All eyes have been on the daughter of successful young sire Twirling Candy since she won her career debut at Saratoga, and the attention has continued throughout her career while she succeeded at the highest level. (more…)
June 21st, 2020 by
Monica Driver
A homebred for the late Gustav Schickedanz. WEDGEWOOD raced mid-pack and then cleared for the win in an AOC going 7 1/2 furlongs on the turf at Woodbine. It was his 3rd win lifetime and raised his earnings to $115,705. His Equibase number was 95, the highest lifetime.
April 20th, 2020 by
Monica Driver
LONG-TIME WOODBINE-BASED TRAINER, WHO HAS TRAINED IN AIKEN IN WINTER MONTHS SINCE 1994, IS INDUCTED INTO THE CANADIAN HORSE RACING HALL OF FAME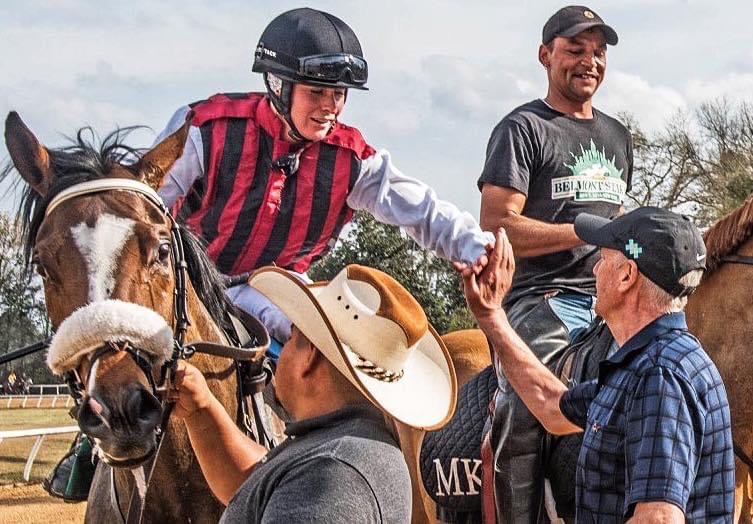 The recent induction of Woodbine-based trainer, Mike Keogh, into the prestigious Canadian Horse Racing Hall of Fame was happily applauded by his friends and associates at the Aiken Training Track, Aiken, S.C. during the long days of the Coronavirus pandemic. "Hats off to Mike Keogh," said Bill Gutfarb, current Board president at the training track. "He is a true gentleman and a very talented horseman."
Keogh's esteemed career as a trainer, winning more than 300 races including a Canadian Triple Crown sweep with Wando in 2003 is very impressive. Another Keogh trainee, Langfuhr, won the Metropolitan Handicapp and Carter Handicapp in N.Y. in 1997. He also scored in the Vosburgh Stakes and the Forego Handicapp in N.Y. in 1996. "Langfuhr is my favorite horse, " said Keogh in a recent interview.Both Wando and Langfuhr are Canadian Hall of Fame members. Wando was Canada's 2003 Horse of the Year and champion 3-year-old male, as well as Aiken Horse of the Year, 2003. Langfuhr was Canada's 1996 champion sprinter. Woodcarver, another Keogh trained winner, winning the Queen's Plate in 1999, was Canada's 1999 champion 3-year old colt.
Keogh and his wife, Lou, have been bringing thoroughbreds to Aiken in the winter season from their stable at Woodbine-Ontario for many years. Keogh's relationship with Canadian owner and breeder and Aiken Training Track supporter and friend, Gus Schickendanz, who recently passed away, is the story of one horseman appreciating the talents of another horseman. Keogh was Schickendanz's private trainer for many years and the men shared a love of all things horses and racing.
"I've been training horses in Aiken since 1994," Keogh said. "I kept horses at Gus Schickendanz's farm in Aiken and rented a few stalls at the training track." At the Aiken Trials, held in the month of March for the past 78 years, Keogh's horses have shown off Keogh's masterful training and their speed. Enoree, in 2016, for example, set a track record of 51 4/5 for the distance. In 2017, Woodbridge won the City of Aiken Trophy and so did Say No More in 2013. In the 1993-1994 period of time, Langfuhr was a yearling turning two, when Keogh first came to Aiken.
"We like coming to Aiken, it's a nice city, the track is quiet, the surrounding dirt roads are good for the horses, " said Keogh.
The Canadian Horse Racing Hall of Fame was established in 1976 to honor those who have made a significant contribution to the sport of harness and thoroughbred horse racing in Canada. It is located at the Woodbine Racetrack in Toronto, Ontario.The Hall of Fame annually inducts thoroughbreds and standardbred horses, sulky drivers, jockeys, trainers and horse racing industry's builders. Keogh will share the illustrious membership in the Canada Horse Racing Hall of Fame with the horse, Play the King. Keogh said, like a true blue horseman, "I am happy to be welcomed into the Canadian Hall of Fame with the horse, Play the King." Keogh galloped Play the King for Roger Attfield.
Once a horseman, always a horseman. Our best and kindest wishes to Mr. and Mrs. Mike Keogh. Love from the Aiken Training Track.
April 19th, 2020 by
Monica Driver
A young horseman and horsewoman from Northern California are establishing themselves as Aiken Training Track's next generation. With two unique, but horse-centric pasts, Justin Rivera and Logan Beardon now run Poplar Place Stables, their own racing stable at Aiken Training Track, with a passion for Aiken's Thoroughbred community. Click here to read the complete article (originally published in the April-May 2020 issue of The Aiken Horse).