Training Track Graduate News
February 19th, 2020 by
Monica Driver
All you need is your horse, a Coggins and a helmet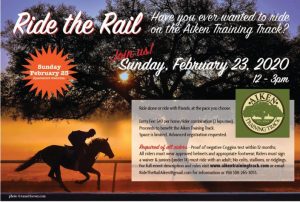 February 1st, 2020 by
Robin Warren
photo courtesy of the Aiken Standard
Have you ever wanted to ride on the Training Track where racing immortals like Kelso, Swale, Pleasant Colony, Tom Fool, Gallorette, Shuvee, and others trained?
On Sunday, February 23, 2020, from 12:00 noon to 3:00 pm, you will have the opportunity. Ride alone or with friends. The cost is only $40 per horse/rider combination.
Space is limited, and advanced registration is requested. Please visit this page for more information about the track's Ride the Rail event.
January 5th, 2020 by
Robin Warren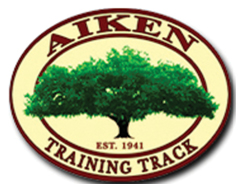 Aiken, S.C., January 3, 2020
The Aiken Training Track announces an outstanding year in 2019.
William Gutfarb, newly elected president of the track's Board of Directors and Chair of the Finance Committee, tallied the graduates' year-end results shortly after the November-December 2019 results were posted on the track's web site.
For the 12 months of 2019, "graduates earned $5,634,932.00 and the track produced 20 stakes winners and 25 stakes placed runners," Gutfarb said. (more…)
November 18th, 2019 by
Robin Warren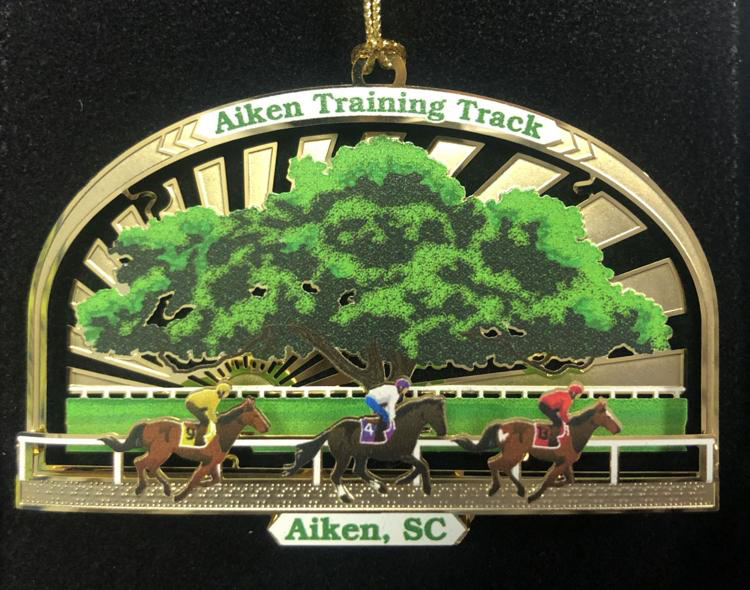 The Aiken Training Track is honored to be the winner of 2019 Aiken Commemorative Ornament contest. The Aiken Downtown Development Association (ADDA) has run this contest for 24 years, and voting this year began in August. Other ideas for the commemorative ornament included the Old Aiken Hospital and Palmetto Golf Club.
Everyone who voted for Aiken Training Track will be entered into a contest. The first-place winner will receive four free ornaments, the second-place winner will receive two, and the third-place winner will receive one free ornament. If you are not lucky enough to be one of the winners, you may purchase an ornament at the ADDA office, located at 208A The Alley in downtown Aiken, and at Aiken Office Supply on Whiskey Road in Aiken.
For a complete list of Aiken commemorative ornaments, visit DowntownAiken.com. This information appeared in the Aiken Standard on November 13, 2019 and is available here.
November 18th, 2019 by
Robin Warren
This painting, featuring the 1942 Aiken Trials, sold yesterday at auction for a hammer price of $70,000 plus 20% buyers premium of $14,000. Total cost to the buyer was $84,000.
" This painting depicts the Aiken Trials, which began in 1942 at the newly built Aiken Training Track. Devereux Milburn, F. S. von Stade, and William B. Wood obtained a charter for the training track in 1941. Modeled after Keeneland's track in Lexington, Kentucky, it was completed and opened in November of that year and not long after saw success with Shut Out, who trained there, winning the 1942 Kentucky Derby. …"
Learn more here.
October 23rd, 2019 by
Robin Warren
This painting, featuring the 1942 Aiken Trials, will come up for auction.
" This painting depicts the Aiken Trials, which began in 1942 at the newly built Aiken Training Track. Devereux Milburn, F. S. von Stade, and William B. Wood obtained a charter for the training track in 1941. Modeled after Keeneland's track in Lexington, Kentucky, it was completed and opened in November of that year and not long after saw success with Shut Out, who trained there, winning the 1942 Kentucky Derby. …" 
Learn more here.
October 11th, 2019 by
Monica Driver
Courtesy of the TDN
Cot Campbell
An exhibit celebrating late W. Cothran "Cot" Campbell's life will open at the Aiken Thoroughbred Hall of Fame and Racing Museum Sunday, Oct. 27 at 1:30 pm. A silent auction, which will benefit the Hall of Fame, will be held from 1:45 p.m. to 4:00 p.m. for various memorabilia–including trophies, artwork and win photos–from the Dogwood Stable collection, donated by Campbells' wife, Anne. The exhibition is free to the public.
Campbell, who changed the sport of Thoroughbred racing when he developed the concept of syndicated ownership, was born Sept. 27, 1927, in New Orleans, and passed away Oct. 27, 2018, at his home in Aiken.
Among the outstanding horses that carried Dogwood's green-and-yellow silks were 2013 GI Belmont S. winner Palace Malice, 1990 GI Preakness winner Summer Squall and 1996 GI Breeders' Cup Juvenile Fillies winner Storm Song, who won the Eclipse Award as the nation's champion 2-year-old filly.
Included among Campbell's Achievements/Award:
• Aiken Standard Person of the Year in 2003
• Greater Aiken Chamber of Commerce 'Man of the Year' in 2006
• Inducted into the South Carolina Athletic Hall of Fame in 2007
• Eclipse Award of Merit in 2012
• Inducted into the Saratoga Walk of Fame in 2016
• National Racing Hall of Fame Pillars of the Turf in 2018
For more information halloffame@cityofaikensc.gov or visit www.aikenracinghalloffame.com.
October 8th, 2019 by
Robin Warren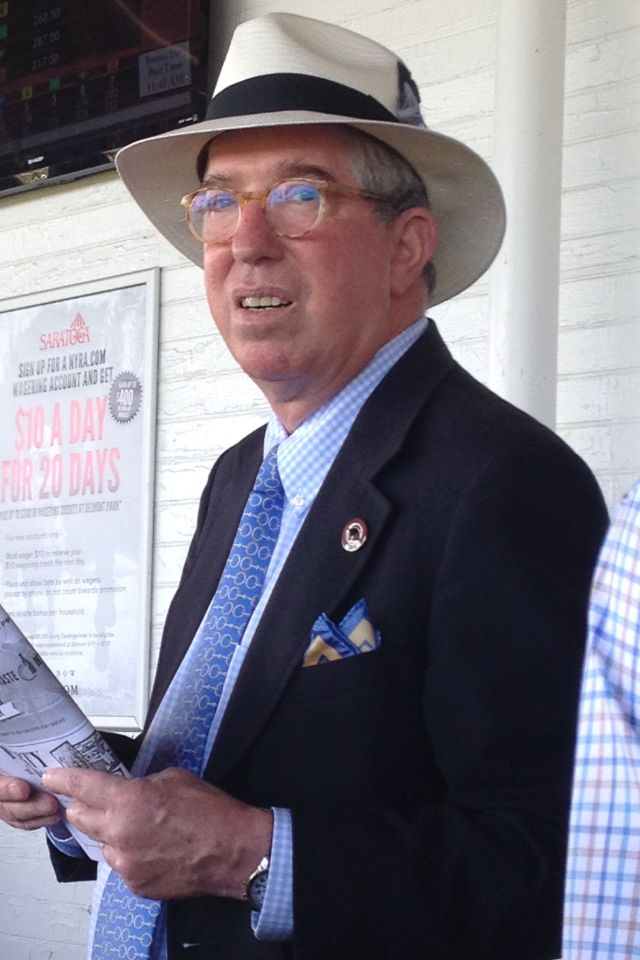 Bill Gutfarb and his wife Wendy have maintained a house in Aiken since 2009 as seasonal residents, becoming full time residents in 2014 with the purchase of their home in the Horse District.  He formally retired in 2016 after ten years with the Boston Red Sox and thirty four with Boston Trust Management Corporation. Retiring as Executive VP and Treasurer with responsibility for the business affairs of the late Jean Yawkey, her trust and estate, the Yawkey Foundations, her controlling interest in the Boston Red Sox, and the 25,000-acre Tom Yawkey Wildlife Center in Georgetown, SC.  Over the years Bill has served as a trustee of a number of New England independent schools and charitable organizations.  He was a charter member of the board of Boston's Emerald Necklace Conservancy. He also served for many years as a trustee and Clerk of the Corporation of the Dedham (MA) Institution for Savings, a $1.5 billion Mutual Savings Bank. Bill is a graduate of Boston University and holds an MBA from Babson College. Bill remains active as a Trustee of the Yawkey Foundations and is a Trustee of Eaglebrook School in Deerfield, MA.
Bill and Wendy are active in Aiken's equestrian community, and Wendy serves as Joint Master of the Aiken Hounds.  Interests include ownership of thoroughbred racehorses, sporting art, and non-fiction reading.  He's been active over the years in the sports of ice hockey, golf, skiing, riding and fox-hunting.  Bill is a member of the Green Boundary Club, the Saratoga Reading Rooms and the Aiken Tennis Club.  Bill has two adult children married and living in Massachusetts.
September 27th, 2019 by
Monica Driver
The busiest time of the year at the Aiken Training Track is about to begin, and preparations are being made for the annual influx of yearling thoroughbreds that will be prepared for racing there from roughly October through April.
A renovation of the 1-mile oval on Two Notch Road is underway. It began Wednesday and the track is scheduled to be closed to horses through Oct. 1.
"We are completely redoing the track," said Training Track Chairman Chad Ingram. "It involves taking off the surface all the way down to the clay base. It (the base) will be repaired if needed. Then the sandy loam (which makes up the surface) will be spread back over it evenly."
Depending on the amount of work required, the project will cost $5,000 to $10,000, Ingram estimated.
"We had a meeting with the trainers," Ingram said. "They thought it needed to be done, and we told them that we would do it. Probably our No. 1 priority is the condition of the track."
Ingram has been the chairman of the training track since April, when the facility's board of directors voted to make him the chief executive officer.
Over the years, the number of horses using the training track has decreased.
During the early 1980s, more than 400 thoroughbreds spent the winter at the Aiken Training Track, which was established in the early 1940s. From October 2018 through August 2019, approximately 140 different horses galloped and breezed at the facility.
During an interview soon after he was elected, Ingram told the Aiken Standard that the track wasn't "like a sinking ship," but admitted it was "facing a lot of challenges."
The training track has two main sources of income. One is the fees paid by horsemen for their thoroughbreds to use the track and/or stalls in the barns owned by the facility.
The other source is the money generated by the Aiken Trials, an event in March that attracts thousands of spectators and is the first leg of the Aiken Triple Crown.
One of the most important concerns for Ingram from the get-go was to find new trainers willing to bring the horses in their care to Aiken.
"I was optimistic at the time, and I still feel that way, but even more so," Ingram said. "I really like the energy of our board. Everybody seems to be committed to helping out the training track, and everybody seems to be working together more. The whole vibe around the place feels better."
There are two new trainers with one horse each, and another, 28-year-old Justin Rivera, is getting ready to bring eight to 15 horses to the track.
His parents, Tirso and Beth Rivera, are in the thoroughbred business in California. They are based at Golden Gate Fields racetrack, which is near San Francisco and Oakland.
"I've worked for a lot of farms and broken young horses for my dad," Justin said. "I've owned horses with my mom and my dad, and my mom breeds her own horses."
Logan Bearden, an eventing rider, is Justin's partner in his Aiken-based horse venture.
"My goal, ultimately, is to have a place for my parents to retire to because they are getting to the end of their race track days," Justin said. "They want to work with younger horses, so they could run my feeder program and I would be at a bigger track, maybe in Maryland."
The training track also has two additional new trainer prospects, who would have around 15 horses each, but "they are unconfirmed at this point," Ingram said.
And there's more good news.
"All the trainers that we had last winter are coming back," Ingram said.
They include Canada-based Mike Keogh, the private trainer for Gustav Schickedanz, who died in June.
Year-around trainers Cary Frommer and Legacy Stable's Brad Stauffer and Ron Stevens will be getting new horses.
During a Sept. 10 meeting, the training track board elected a new president, Bill Gutfarb. He replaced Alice Knowles, who had been the president since April.
"He is making sure our financials are compiled accurately, and he also is helping us with our budgeting, our tax returns, our insurance renewals and those kinds of things," said Ingram of Gutfarb. "Anything I've asked him to do, he's jumped right on."
Gutfarb, who is retired, worked in financial management for the Yawkey family, whose patriarch, the late Tom Yawkey, owned the Boston Red Sox.
Gutfarb is still a trustee for two of the Yawkey family's foundations.
"The training track is a great place, and this is a great community," Gutfarb said. "I don't know if we're going to be able to get the track back to what it was 50 years ago, but we can certainly try to make what we have to offer better known."
Gutfarb and his wife, Wendy, are thoroughbred owners, and they are among the partners in Mosaic Racing Stable.
Wendy is a joint master of foxhounds for the Aiken Hounds.
In addition to a new president and new trainers, the training track has three new employees – one in the office and two who work in track maintenance.
There also is a new website, aikentrainingtrack.com.
"It is a lot better technically, they tell me," Ingram said. "It's quicker and easier to update."
Earlier this year, the training track expanded and upgraded the clockers' stand, which was named in honor of Dogwood Stable's late founder and president, Cot Campbell.
Further improvements are planned, including the replacement of the pergola with a larger covered structure that will provide shade and shelter from any rain for more people.
Meanwhile, graduates of the training track have been enjoying success this year at the racetrack.
In July, on the same day, Henley's Joy captured the $1 million Belmont Derby Invitational Stakes, and Concrete Rose scored in the $750,000 Belmont Oaks Invitational Stakes at Belmont Park in New York.
More recently, Killybegs Captain won the $250,000 Frank J. De Francis Memorial Dash Stakes and Dubini triumphed in the $100,000 Laurel Dash Stakes on Sept. 21 at Laurel Park in Maryland.
September 18th, 2019 by
Robin Warren
We were lucky that Hurricane Dorian never appeared in Aiken!

All horses and their owners are safely home at this time.