Long-time Aiken Trainer Inducted Into Canada's Horse Racing Hall of Fame
LONG-TIME WOODBINE-BASED TRAINER, WHO HAS TRAINED IN AIKEN IN WINTER MONTHS SINCE 1994, IS INDUCTED INTO THE CANADIAN HORSE RACING HALL OF FAME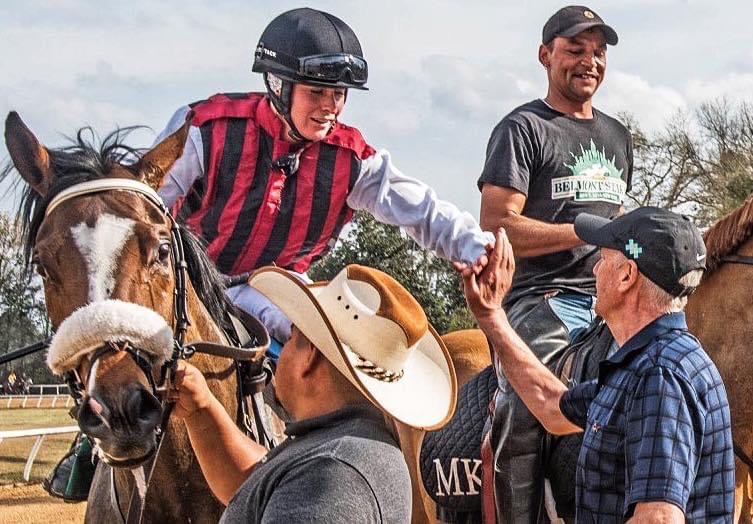 The recent induction of Woodbine-based trainer, Mike Keogh, into the prestigious Canadian Horse Racing Hall of Fame was happily applauded by his friends and associates at the Aiken Training Track, Aiken, S.C. during the long days of the Coronavirus pandemic. "Hats off to Mike Keogh," said Bill Gutfarb, current Board president at the training track. "He is a true gentleman and a very talented horseman."
Keogh's esteemed career as a trainer, winning more than 300 races including a Canadian Triple Crown sweep with Wando in 2003 is very impressive. Another Keogh trainee, Langfuhr, won the Metropolitan Handicapp and Carter Handicapp in N.Y. in 1997. He also scored in the Vosburgh Stakes and the Forego Handicapp in N.Y. in 1996. "Langfuhr is my favorite horse, " said Keogh in a recent interview.Both Wando and Langfuhr are Canadian Hall of Fame members. Wando was Canada's 2003 Horse of the Year and champion 3-year-old male, as well as Aiken Horse of the Year, 2003. Langfuhr was Canada's 1996 champion sprinter. Woodcarver, another Keogh trained winner, winning the Queen's Plate in 1999, was Canada's 1999 champion 3-year old colt.
Keogh and his wife, Lou, have been bringing thoroughbreds to Aiken in the winter season from their stable at Woodbine-Ontario for many years. Keogh's relationship with Canadian owner and breeder and Aiken Training Track supporter and friend, Gus Schickendanz, who recently passed away, is the story of one horseman appreciating the talents of another horseman. Keogh was Schickendanz's private trainer for many years and the men shared a love of all things horses and racing.
"I've been training horses in Aiken since 1994," Keogh said. "I kept horses at Gus Schickendanz's farm in Aiken and rented a few stalls at the training track." At the Aiken Trials, held in the month of March for the past 78 years, Keogh's horses have shown off Keogh's masterful training and their speed. Enoree, in 2016, for example, set a track record of 51 4/5 for the distance. In 2017, Woodbridge won the City of Aiken Trophy and so did Say No More in 2013. In the 1993-1994 period of time, Langfuhr was a yearling turning two, when Keogh first came to Aiken.
"We like coming to Aiken, it's a nice city, the track is quiet, the surrounding dirt roads are good for the horses, " said Keogh.
The Canadian Horse Racing Hall of Fame was established in 1976 to honor those who have made a significant contribution to the sport of harness and thoroughbred horse racing in Canada. It is located at the Woodbine Racetrack in Toronto, Ontario.The Hall of Fame annually inducts thoroughbreds and standardbred horses, sulky drivers, jockeys, trainers and horse racing industry's builders. Keogh will share the illustrious membership in the Canada Horse Racing Hall of Fame with the horse, Play the King. Keogh said, like a true blue horseman, "I am happy to be welcomed into the Canadian Hall of Fame with the horse, Play the King." Keogh galloped Play the King for Roger Attfield.
Once a horseman, always a horseman. Our best and kindest wishes to Mr. and Mrs. Mike Keogh. Love from the Aiken Training Track.